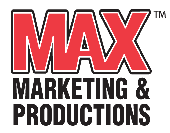 800-556-1150
513-248-8900


Cincinnati-based MAX Marketing & Productions works with a wide spectrum of customers who themselves have diverse marketing needs and requirements. MAX helps its clients grow and improve their businesses while eliminating the tedium and wasted time of "do-it-yourself" promotional projects.
MAX can create an entire marketing, advertising or promotional campaign for your company that fits your budget and without compromising creativity or effectiveness. MAX services include:
Direct Mail Advertising Programs

Mailing Lists and Database Management

Comprehensive Multi-Media Promotional Campaigns

Training Video Development and Production

Media Duplication and Fulfillment

Creative and Technical Writing

Creative Graphic Design

Print Management

Web Marketing Strategies and Implementation

Web Site Development and SEO (Search Engine Optimization)

Max Marketing is a full-service marketing, advertising and training video production company based in Cincinnati, Ohio. With 22 years of experience, we have the expertise you need and deserve for your projects. We can help you grow and expand your business using a wide range of marketing tools from traditional print and mail advertising to cutting edge Internet marketing.
MARKETING &
ADVERTISING SERVICES

© Copyright 2010-11 MAX Marketing & Productions. All Rights Reserved.