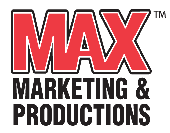 800-556-1150
513-248-8900


The MAX team brings a wealth of knowledge and experience to make your next marketing or advertising project succeed. We can start with a marketing & sales analysis to help design your overall strategy, or we can implement an advertising or sales plan using traditional and cutting edge communication tools. Our goal is to help you find and reach your prospects and help you succeed!
MAX understands today's Internet technologies, and we will increase your presence on the Web through cutting edge Web Marketing techniques.
Whether you need 1 hundred pieces or 1 million, MAX can take your project from creative design all the way to print production and fulfillment.
Since 1988, MAX has been successfully producing high quality video productions across many industries.
Need more information from MAX? Contact us right away and get your next project started with total confidence.



With over 22 years experience in the direct mail industry, we can handle your next project from design to distribution.


There may be nothing more effective in the world of marketing and advertising than a great illustration or graphic design. MAX does creative design.


MAX can create a marketing or advertising campaign for your company that is both effective and fits your budget.
Whether you are starting from scratch or updating your existing Web site, MAX will improve your Web site's appearance and effectiveness.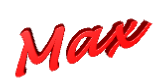 © Copyright 2010-11 MAX Marketing & Productions. All Rights Reserved.